Launching a brand new product is, at the very best of times, a difficult task.
The sheer logistics of designing, developing and then producing a charger to take on an existing and well-established market is complicated, time-consuming and fraught with pitfalls.
But what about if, just when you're about to send your new product into manufacturing and launch it, the world enters lockdown with the worst pandemic since the Spanish Flu affecting supply chains, manufacturing capacity and logistics?
I think we can all agree, that would be quite a challenge for many huge, established brands, but coping with such an issue is even more difficult for small companies bringing something brand-new to the market.
Yet, this is the position Homing Systems found itself in when creating their groundbreaking device billed as the world's smallest multi-output 100W GaN fast charger – the SlimQ F100.
After a hugely successful Indiegogo campaign that saw them not only achieving their set objective but bursting through their goal to reach over 2000% of their target for funding, the COVID-19 pandemic hit.
Although the world seemed to come to a standstill, air travel stopped, and companies closed their doors, the team at Homing Systems carried on.
In the words of their founder and CEO, Derek Lui, they "kept the faith" ensuring they can meet their deadlines to get the product to their keen and eager customers.
They not only continued to push their new product from idea through to prototype and eventually on to manufacture, but they also took the situation and turned it on its head, naming the product after the determination of their staff and their willingness to keep going.
Derek Liu said; "That's why we named the product F100 – the letter 'F' stands for faith, with great respect and support for all those who have struggled and suffered with the virus."
Why the F100 is such a groundbreaking fast charger
The SlimQ breaks the mold for so many reasons, but where it excels is in the sheer power it delivers for such a small device.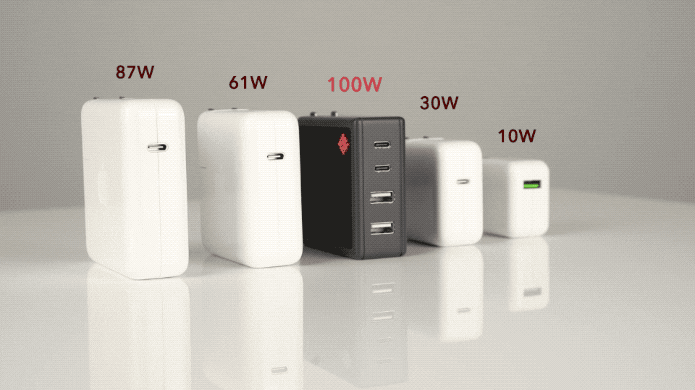 Coming in smaller and lighter than many devices currently on the market, it goes much further by providing power to up to four devices simultaneously.
Sporting two USB-A and two USB-C ports, both old and new devices can use its charging power, and even more with the addition of a range of cables.
Of course, using USB-C also means you can take advantage of power delivery with incredible charging speeds possible due to the inclusion of GaNFast ICs from Navitas Semiconductor.
GaNFast ICs use gallium nitride (GaN) technology, enabling the SlimQ to charge many of today's phones much faster than with the typical silicon-based charger you get with the device, and fast-charge your 16" MacBook Pro, and keep it topped-up while charging 3 other devices at the same time.
When we're finally allowed to fly the world again, you'll be able to relax in the airport lounge charging your Macbook, iPhone and earbuds all at the same time, with a spare port to share with the traveller next to you!
And, of course, when you get to your destination, the F100 has another surprise – interchangeable travel plugs.
Travelling to the UK? No problem, simply click in the UK plug adapter and carry on as usual, charging all of your devices.
Are you hopping on the plane again on the way to Australia? Simply swap out the adapter when you land, and you're still up and running in no time.

This is genuinely a charger you can take anywhere, but it's not only speed, size and flexibility where it shines, it also has impressive environmental credentials.
The F100 contains a PFC (power factor correction) circuit that improves the power quality, increases efficiency and reduces electricity consumption.
Although this means the device is a little bigger, it's a requirement in many countries for adapters over 75W to have this function, and it enables the charger to be far more environmentally friendly.
As these chargers can be used for so many devices, it means the overall environmental impact is reduced. If you had your devices plugged in for 10 hours a day over a year (very likely as many people charge overnight), PFC means a saving of 230 kWHr of electricity or 227 pounds of carbon dioxide.
An adapter for any device
Homing Systems want everyone to be able to take advantage of their new adapter. So they're also offering a range of cables that take the USB-C output and convert it to legacy devices such as laptops, cameras and more.
Although it's easy enough to replace a Macbook charger, you may have a legacy laptop with the old 'barrel-jack' connectors so you're tied to their old, bulky chargers. However, you can now introduce your Dell, HP or ThinkPad to fast charging technology thanks to Homing Systems' huge selection of cables.
Shipping soon
The great thing about the F100 is, you won't have long to wait to get hold of one.
Even though everyone has been affected by the Covid-19 pandemic, Homing Systems still expect to start shipping their devices in June 2020.
So, when the world starts travelling and business gets back to normal, pop a SimQ in your backpack and travel lighter with more power than ever before!
https://youtu.be/YIw5BjzutgE