'Little Star Gallium' and 'Little Star Nitrogen' Twins Combine to Highlight Fast Charging, Energy Efficiency and Environmental Education.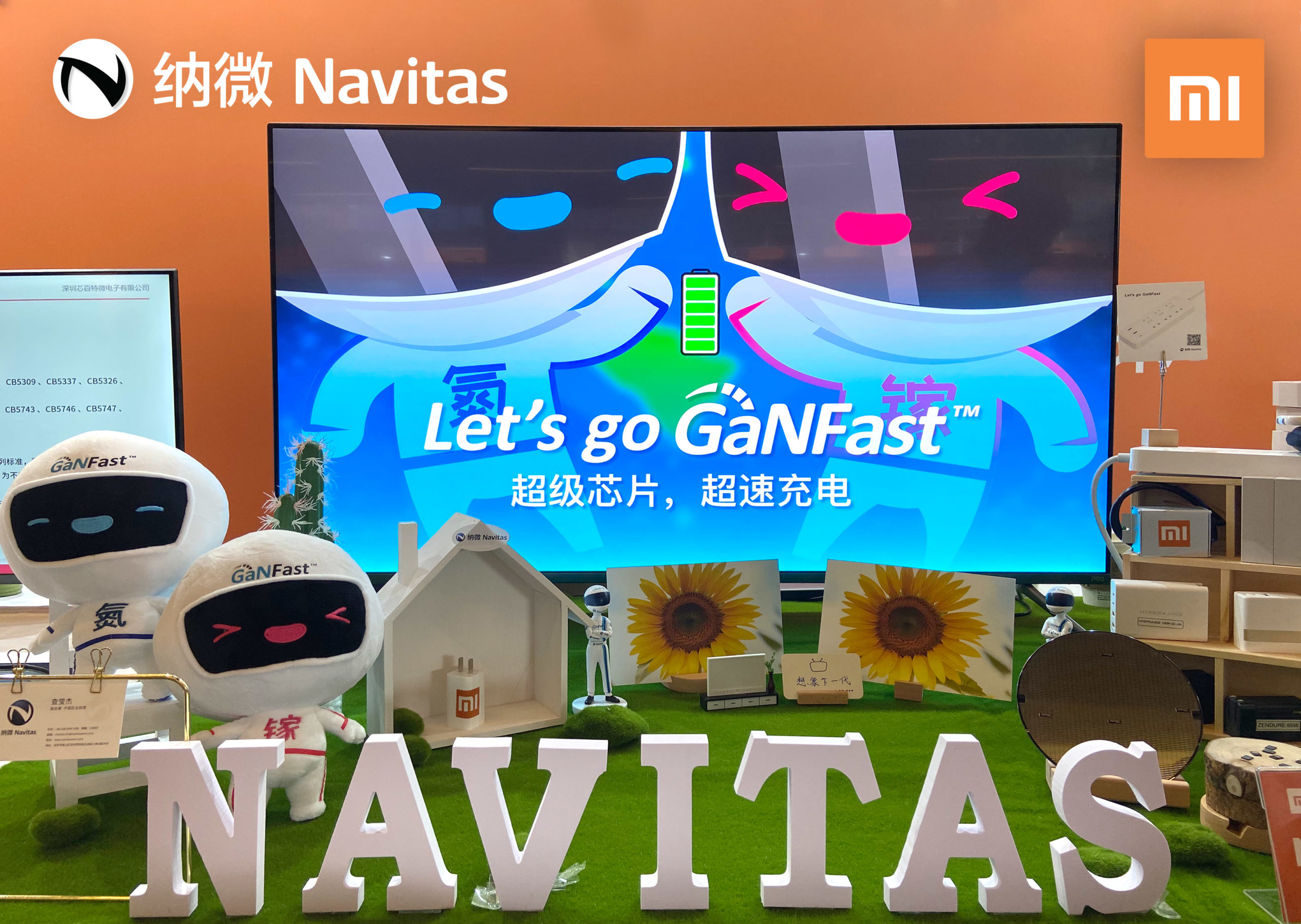 DUBLIN, IRELAND — (PRWeb) – Navitas Semiconductor Limited today announced that their new 'Little Star GaN' twin mascots were launched to an excited crowd at the Xiaomi Technology and Investment Day in Beijing on September 25th.
Gallium Nitride (GaN) is a next-generation power semiconductor technology that runs up to 100x faster than old, slow silicon chips, with dramatic improvements in energy savings and power density. When 'Little Star Gallium' (XiaoJia) and 'Little Star Nitrogen' (XiaoDan) work together on 'Planet Navitas', we learn how GaN and fast charging not only contribute to a better consumer experience but also deliver higher efficiency and reduced pollution across the whole power electronics world, from smartphones and laptops to high-power data centers, eMobility and new energy applications.
The 'Little Star GaN' twins will feature in educational videos and articles across Navitas' GaNFast website and social media platforms, and will make personal live appearances at special events.
Navitas was among a select group of partners invited to the Xiaomi Technology and Investment Day, held at the Beijing headquarters. Xiaomi visitors to the Navitas display included Chairman and CEO Mr. Jun LEI, President and CFO Mr. Xiang WANG, and VP Investment Mrs. Changsu SUN.
"I was very happy to see such a large crowd excited by the 'Little Star GaN' twins," said Mr. Lei. "Navitas' strategy aligns with Xiaomi's in many critical ways; that business success comes from technological innovation, corporate social responsibility, and sustainable development goals including education, climate, and life on land and in the oceans."
Mr. Lei had previously announced the world's smallest 65W USB-C fast charger using Navitas' GaNFast power ICs at the Xiaomi Mi 10 and Mi 10 PRO launch.
"Navitas is honored to have Xiaomi as an investor and have this exclusive platform to launch the 'Little Star GaN' twins, said Mr. Charles (Yingjie) ZHA, Vice President and General Manager of Navitas China. "The long lines to meet XiaoDan and XiaoJia showed that the Xiaomi team are environmentally aware and eager to know more about how GaN can not only enable 3x faster charging in half the size and weight, but also help us all to reduce energy waste and pollution for a cleaner world."
About Xiaomi Corporation
Xiaomi Corporation was founded in April 2010 and listed on the Main Board of the Hong Kong Stock Exchange on July 9, 2018 (1810.HK). Xiaomi is an internet company with smartphones and smart hardware connected by an IoT platform at its core. With an equal emphasis on innovation and quality, Xiaomi continuously pursues high-quality user experience and operational efficiency.
The company relentlessly builds amazing products with honest prices to let everyone in the world enjoy a better life through innovative technology. Xiaomi is currently the world's fourth-largest smartphone brand, and has established the world's leading consumer IoT platform, with 271 million smart devices connected to its platform, excluding smartphones and laptops. Xiaomi products are present in more than 90 markets around the world.
In August 2020, the company made the Fortune Global 500 list for the second time, ranking 422nd, up 46 places compared to last year. It also ranked 7th among internet companies on the list. In May 2020, the company made the Forbes Global 2000 List again, and its ranking jumped to 384th.
About Navitas:
Navitas Semiconductor Inc. is the world's first and only GaN Power IC company, founded in 2014. Navitas has a strong and growing team of power semiconductor industry experts with a combined 200 years of experience in materials, devices, applications, systems and marketing, plus a proven record of innovation with over 300 patents among its founders. GaN power ICs integrate GaN power (FET) with drive, control and protection to enable faster charging, higher power density and greater energy savings for mobile, consumer, enterprise, eMobility and new energy markets. Over 100 Navitas patents are issued or pending, and over 6 million GaNFast power ICs have been shipped with zero failures.
###
Navitas Semiconductor, GaNFast and the Navitas logo are trademarks or registered trademarks of Navitas Semiconductor, Inc. All other brands, product names and marks are or may be trademarks or registered trademarks used to identify products or services of their respective owners.
Press Contact
Navitas Semiconductor Inc.
Stephen Oliver – VP Corporate Marketing and Investor Relations
Phone: +1 ThinkGaNIC (+1 844-654-2642)
Email: [email protected]