Gallium nitride (GaN) power ICs capture more of the $20B silicon market.
DUBLIN, IRELAND –(PRWeb)— Navitas Semiconductor today announced that Spigen Inc. has extended its range of 'ArcStation Pro' GaN-based fast chargers, now including the world's smallest 45W model for Samsung's flagship smartphone, the S21 Ultra.
Gallium nitride (GaN) is a next-generation semiconductor technology that runs up to 100x faster than old, slow silicon (Si), and enables up to 3x more power or 3x faster charging in half the size & weight. GaNFast™ power ICs integrate GaN power and drive plus protection and control to deliver the simplest, smallest, fastest and highest performance.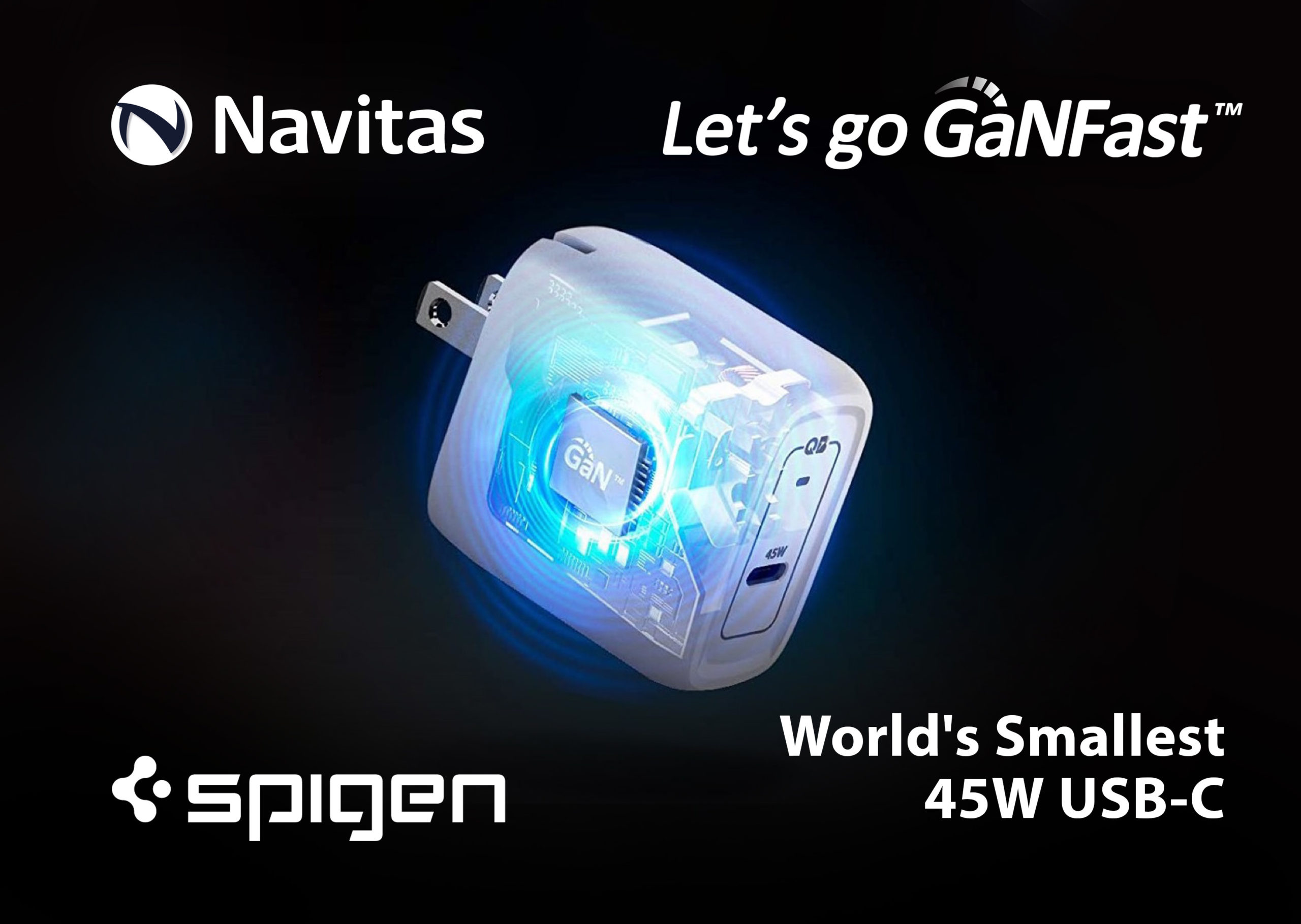 The Samsung S21 Ultra smartphone has a large, 5,000 mAhr battery and uses an advanced version of the universal serial bus (USB) power delivery protocol, called 'programmable power supply' (PPS). PPS can monitor the phone's battery status in finer detail and adjust the delivered power more accurately to ensure the fastest – and safest – charging speed.
Measuring only 47 x 47 x 27 mm (60 cc) including folding pins, the Spigen 45W (model PE2015) is the smallest 45W PPS charger in the world, and ~30% smaller and lighter than Samsung's own 45W model.
"The original GaNFast 20W ArcStation Pro charger for the iPhone 12 was our most successful launch," said Sean Lee, Spigen's product and marketing manager. "By expanding the ArcStation Pro range with increased power, we can extend that success to the Samsung S21 and S21 Ultra which can fast-charge using a full 45W. The 40W version has dual USB-C outputs so you can charge two devices at the same time."
"Spigen's ArcStation Pro delivers the fastest charging rates for the new Samsung S21 range – and is differentiated by superb 'soft-touch' industrial design, affordable price points and commitment to quality," said Stephen Oliver, Navitas' vice-president corporate marketing and investor relations. "The silicon chip is history; gallium nitride and GaNFast power ICs are driving a fast-charger revolution."
The extended Spigen ArcStation Pro range, enabled by GaNFast power ICs is:

Visit GaNFast.com to discover more about the ArcStation Pro series of GaN fast chargers with reviews and purchase links.
About Spigen:
Spigen Inc., commonly known as Spigen, is a mobile accessory leader that makes cases, screen protectors, and other accessories for popular smartphone models. Spigen has recently launched its new brand Spigen PowerArc, specializing in delivering ultra-fast charging solutions for mobile devices. To learn more, please visit power-arc.com.
About Navitas:
Navitas Semiconductor Ltd. is the world's first and only GaN Power IC company, founded in 2014. Navitas has a strong and growing team of power semiconductor industry experts with a combined 300 years of experience in materials, devices, applications, systems and marketing, plus a proven record of innovation with over 300 patents among its founders. GaN power ICs integrate GaN power with drive, control and protection to enable faster charging, higher power density and greater energy savings for mobile, consumer, enterprise, eMobility and new energy markets. Over 120 Navitas patents are issued or pending, and over 18 million GaNFast power ICs have been shipped with zero failures.
Navitas Semiconductor, GaNFast and the Navitas logo are trademarks or registered trademarks of Navitas Semiconductor, Ltd. All other brands, product names and marks are or may be trademarks or registered trademarks used to identify products or services of their respective owners.
Press Contact
Navitas Semiconductor Ltd.
Stephen Oliver – VP Corporate Marketing and Investor Relations
Phone: +1 ThinkGaNIC (+1 844-654-2642)
Email: [email protected]