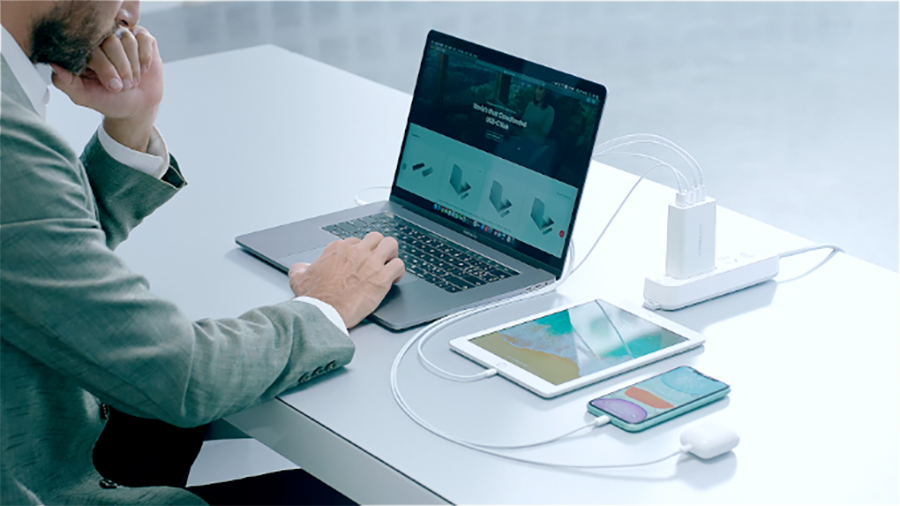 If you're a long-time Apple fan who buys many of their products, then it's likely you have a cupboard full of chargers.
Many people have "charging corners" in their living rooms (I do) where all the technology gets plugged in at night to receive their charge ready for the next day. If it's anything like my corner, it's cluttered with chargers.
There's one for the iPhone, one for the son's Android device, another for the iPad and the Macbook has to sit on the floor and wait its turn before receiving its boost. There's even one with the old, wide, 30-pin connectors for an iPod that's been missing for years.
But what if one charger could charge them all?
What if you could plug them all in at once?
The future is here now!
Not only can you do this now, but it's also been possible for quite some time due to the arrival of "new kid on the block", gallium nitride.
Don't worry; I'm not going to delve into science, I'll just say this: Silicon is old and slow, gallium nitride is new and fast.
Charging devices that use gallium nitride (or GaN as it's known) are typically 3x faster in half the size and weight.
Could you imaging charging your iPhone to 50% full in just 36 minutes? Seems like a pipe-dream, but it's not, and if you order online today, you could be charging that fast tomorrow.
However, that's not all.
By packing the technology in so well, and using GaN-based chips, manufacturers can provide more charging ports, more power and more portability.
All of those power bricks cluttering up the corner of the living room or kitchen can be replaced by one small charger with USB-A and USB-C as standard.
It has enough power to charge your MacBook (all the way up to the 16" Pro), iPad and phones, and is probably smaller than any of the chargers that came with the devices.
Not only that, these chargers often come with extremely portable travel-plugs so you can pack them up in your rucksack for the trip to work or the weekend away without breaking your back carrying all those adapters around.
What about the iPhone 12?
You may have heard the rumor about the iPhone 12 and that it will probably ship without a charger in the box.
Of course, you're upgrading, you probably already have one lying around, it's not a big deal, and if you've got time to wait while it charges, the old, low-power one will do the job OK…
But for many, this is the ideal time to upgrade, so why not charge faster and remove all that clutter by checking out the ever-growing range of fast chargers using GaN technology on our searchable products page?